Brian Feehan's Debut Novel
Posted
A Harmony of Fire, Pre-Order Your Copy Today!
So my boy, Bri (that would be the lovely and talented Brian Feehan, my BFF Christine's son and our mutual writing and plotting partner), has his debut novel coming out next summer. It's a completely cool fantasy romance unlike any you've ever read before. And if you haven't done so already, you totally need to preorder your copy today! I've got mine.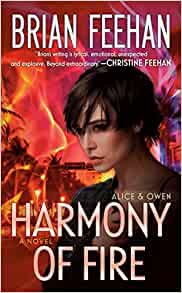 Brian's Harmony of Fire is the first book in his Alice & Owen series about two magically gifted "Etherealists" with powers that make them a target for some pretty bad supernatural powerhouses.
The "We" (think angels/demons/uber-powerful supernatural beings) walk among us—beings who existed long before humans ever did, filled with powerful magic. Owen and Alice are both Etherealists, rare humans born with magic and a target for those We that wish to take it from them. 
When she was nine years old, Alice's soul was forcibly tied to one very powerful and evil We. She escaped and was trained as a weapon so she might one day break the bond that chains her and return home without endangering everyone she loves. 
Owen is a musician with a very special gift who is trying to outrun his past while keeping those around him safe in an increasingly dangerous world. Only through finding each other do either Alice or Owen have a chance of survival.
For those of you who don't know, Brian's been part of our "Starfish Club" brainstorming team for over a decade. He's been an instrumental part of our group, with fantastic ideas and loads of talent. He's an utterly delightful human being and one of my favorite people on the planet. He and his beautiful, much beloved Michelle are two of my favorite gaming partners for cards and Catan and whatever interesting new game Brian discovers then teaches us all to play. So even if he wasn't my best friend's son, I'd urge you to go buy his book and give him your support. And not just because it's a great book (which it is), but because really good peeps deserve really good things to come their way. So send lots of goodness Brian's way!
Get your copy of Harmony of Fire today! Then be sure to friend him on goodreads and facebook and all the other social media site stuff. (And if you're feeling a little naughty, drop him a line to tell him you think the movie Aquaman with Jason Momoa is The Best Movie EVAHHHHHH!!!! He'll love you forever! :wink emoji :wink emoji :wink really damn hard emoji!)
Thanks y'all and big hugs!
Now back to my regularly scheduled programming. I am trying to finish JAGUAR KING and make forward progress on my half a dozen other WIPs. Wish me luck!