Winter King Goodies
Readers can request free autographed C.L. Wilson bookplates, bookmarks and collector cards.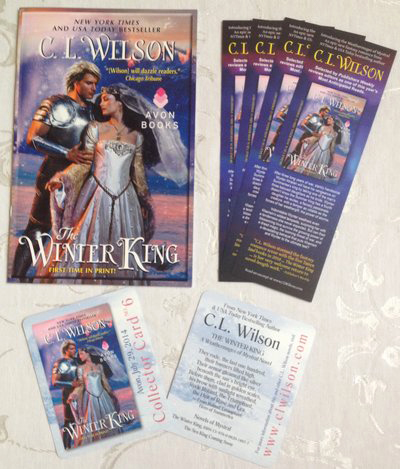 Now Available!
The Winter King Bookmark
The Winter King Collector Card
The Winter King Excerpt Booklet (requires 9″x5″ SASE envelope)
Signed Winter King Bookplate
Also Still Available:
Tairen Soul Series Bookmark
Crown of Crystal Flame Collector Card
Queen of Song and Souls Collector Card
King of Sword and Sky Collector Card
Lady of Light and Shadows Collector Card
Lord of the Fading Lands Collector Card
Signed Tairen Soul Series Bookplates
To order, send your request and an SASE (Self-Addressed Stamped Envelope – U.S. First Class postage) to:
C.L. Wilson
7282 55th Ave E. PMB 104
Bradenton, FL 34203
If you are requesting personalized signed bookplates, be sure to provide the name C.L. should include in the inscription. Allow up to four weeks for delivery.
Available only while supplies last
Buy Authographed Books
Don't have a C.L. Wilson book to be autographed or would you like to have a fresh copy of your favorite book autographed? You can now buy a new C.L. Wilson book to be autographed with a custom message on our Tairen's Layer website. Click on the link below, select a book, and leave me some notes for how to address your custom message and your new autographed book will be shipped to your house.
Buy a new autographed book