Never Fear – The Tarot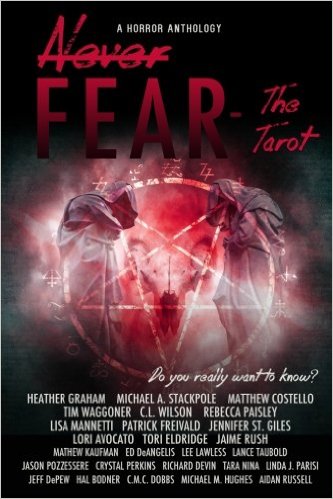 Download Excerpt
A compendium of horror short stories based on the Tarot
13Thirty Books asked twenty-six authors to agree to write stories based on the Tarot, with the cards determining which stories the authors would write. Over the course of several months we reached out to some of the best genre authors and proposed our idea. Once we had our authors, we took a tarot deck and a list of all twenty-six names. We would read the author's name, shuffle the deck, and draw a card. That tarot card and its traits were all the authors had to go on. The card was removed, the deck was reshuffled, and the next name was read off. This anthology contains twenty-six stories based on the twenty-two cards of the Major Arcana and the four cards of the Minor Arcana. Award-winning and New York Times bestselling authors combine their talents to deal out twenty-six dark tales influenced by the Tarot.
The anthology features C.L. Wilson's first return to the Fading Lands since the conclusion of the Tairen Soul series, a short story about Shannisorran vel Celay. Based on the Ace of Swords, the short story, A Good Day to Die, finds Shan setting out on what he intends to be his last battle as he leads his men into the hive of a powerful Drogon Blood Lord.
| | |
| --- | --- |
| Publisher: | 13Thirty Books |
| Published: | October 09, 2016 |
| ISBN (10): | 0997791209 |
| ISBN (13): | 978-0997791204 |
Ace of Swords, AKA A Good Day to Die is set two thousand years before the Tairen Soul series.
After three thousand years of life, Shannisorran vel Celay, the greatest warrior of the Fading Lands, known as Lord Death to his enemies, can no longer bear the weight of all the souls he has claimed in defense of the Fading Lands and her allies. Without the peace of a truemate to anchor him, the lure of the Dark Path is growing stronger, and with it, the threat of becoming a monster greater than those he's spent his long lifetime fighting. His last act as a warrior and the First General of the Fading Lands: to lead his men into the hive of a powerful and deadly Drogon Blood Lord, a battle from which Shan does not intend to emerge alive.  But as the ancient Blood Lord wields his insidious magic against his foes, Shan must choose between victory and surrendering not just his life but his soul.