Books Coming Soon
THE SEA KING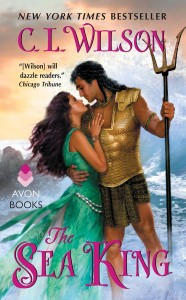 To all my readers who have been patiently waiting for this book, thank you so much for your continued support and patience.  I appreciate it more than I can say.
I'm thrilled to announce that I finally have a confirmed release date for THE SEA KING.  It's coming out October 31, 2017 from Avon Books.
I'm super excited about this book.  I totally fell in love with Dilys Merimydion when he showed up in the pages of THE WINTER KING, and fell even deeper in love with him while writing this book.  And his heroine, one of the Seasons I had the least connection to when she showed up in her sister Khamsin's story has become one of my favorite heroines of all, surprising me at every turn.
I hope you are as excited as I am for this story to finally make it into print.
THE SEA KING is the 2nd in the Weathermages of Mystral series, and the first in the Seasons of Summerlea trilogy.
He wasn't supposed to choose her . . . 
Seafaring prince Dilys Merimydion has been invited to court the three magical princesses of Summerlea. To eradicate the pirates threatening Calberna and to secure the power of the Sea Throne, Dilys vows to return home with a fierce warrior-queen as his bride. But politics has nothing to do with unexpected temptation.
She didn't dare wed him . . . 
A weathermage like her sisters, Gabriella Coruscate's gentleness exemplifies the qualities of her season name, Summer. Yet her quiet poise conceals dangerous powers she cannot begin to wield. Better to live without excitement, she reasons, than risk her heart and lose control—until an irresistible Sealord jolts her awake with a thunderclap of raw desire.
Until evil threatens everything they hold dear . . . 
When pirates kidnap Summer and her sisters, Dilys is in a desperate quest to save the woman he loves. Only by combining his command of the seas with the unleashed fury of Summer's formidable gifts can they defeat their brutal enemies and claim the most priceless victory of all: true love.
Pre-Order Your Copy Today
Pre-order SEA KING Mass Market Paperback from Barnes & Noble
Pre-order SEA KING Nook eBook from Barnes & Noble
Pre-order SEA KING Mass Market Paperback from Amazon.com
Pre-order SEA KING Kindle eBook from Amazon.com
Preorder SEA KING Mass Market Paperback from Books-A-Million 
What I'm Working On
Check out my What I'm Working On page for the latest on my current WIPs.